As a person who likes some things in life to be perfect, I am still waiting for that perfect picture of my two children together.
I mean a photo with both my cuties looking at the camera,
smiling,
legs down,
underwear NOT showing,
eyes open,
arms and hands in place,
a perfect photo is all I want.
A photo to frame.
In years past we have done the mall thing to do Christmas cards. I have had such bad experiences. Meaning two kids won't stand next to each other or sit next to each other without fighting or crying. So since Gabrielle's birth the entire photos end up being a good shot not perfect of Joey by himself and then a good shot of Gabby by herself and then finding a card with two frames and blending the card to one. It works but I still want that perfect shot. A shot with my two kids together and looking happy, one with Gabrielle's beautiful dimple showing. One with Joey displaying a natural and not forced smile.
Well I have to tell you that mama is still
waiting….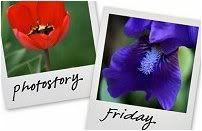 Hosted by Cecily and MamaGeek