As many of you know when we went to Sanibel Island on vacation we also took a side trip to Disney. Orlando is about a 3 hour trip from Sanibel. We had an amazing time in Disney, although it never seems like enough time. Our trip to Florida was not really planned nor was a trip to Disney. (Meaning this was not a trip planned out months in advanced) My dad has a condo in Florida and he is also a Florida resident. I think sometimes he gets bored alone in Florida so he called me in January asking if the kids and I would want to go to Sanibel for a trip. Of course I jumped on the invitation and then decided since we were in Florida and the kids are at such great ages that a trip to Disney would be a wonderful idea!
Little Miss Gabrielle is three and a half. She loves everything dress up and princess. So when I was on the Disney website in late January making arrangements for a character dinner and came across the Bibbidi Bobbidi Boutique it seemed like a no brainer to me. What is this boutique? I am glad you asked. It is an amazing, creative, and fun experience for any little princess.
Below is copied from the website:
It's hard not to feel as happy as a princess in this charming little boutique, owned by Cinderella's Fairy Godmother and operated by Fairy Godmothers-in-training. The boutique offers multiple hair styles, nail color, make-up and a total package including Disney Princess costume and photographs.
Girls 3 years old and above can choose from 3 hair styles — Fairytale Princess, Disney Diva and Pop Princess — in 3 available packages:
• Coach Package includes hairstyling and shimmering makeup
• Crown Package includes hairstyling, shimmering makeup and nails
• Castle Package includes the Crown Package plus the Imaging Package (one 6" x 8" and four 4" x 6" photos in a princess-themed photo holder) and complete costume of your choice with accessories
I was so excited to do this for Gabrielle. This is how our princess experience went. We surprised Gabby and went to our appointment after lunch. After signing in the princess to be goes and chooses her gown and princess to become. Gabby chose Sleeping Beauty due to the fact that the dress is pink and so are the shoes! (Love that girl and her devotion to the color pink!!) She then goes back into the princess dressing room and puts on her princess dress. Then she sits in the princess salon chair. Because Gabby has short hair they made a very small pony tail at the top of her head giving her a "Pebbles" look. From there they used a head piece to create a bun and extensions of hair. She gets her nails painted as well as makeup put on her face. This all takes place by the Fairy Godmothers and the whole time she is called "Princess Gabrielle".
ADORABLE!!! This was so much fun. Gabrielle LOVED it! It was so precious and I am just so happy that we were able to do this for her and at three years old when Disney is a magical place she could feel like a princess. I only wish they had this stuff when I was a kid!!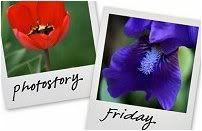 Hosted by Cecily and MamaGeek